A few days ago, the United States International Trade Commission (ITC) issued an announcement deciding to maintain anti-dumping and countervailing duty orders for non-road tires in China.

The non-road tire "double reverse" case was filed on July 30, 2007. On September 4, 2008, the United States formally imposed a "double reverse" tax on non-road tires. The anti-dumping tax rate was 0 to 210.48% and the countervailing duty rate was 2.45% to 14%. On November 20, 2013, the US International Trade Commission initiated a rapid sunset review of the "double reverse" taxation order applicable to my off-road tires.

So far, China's tire industry has been subject to anti-dumping or "special protection" investigations in more than 10 countries. Experts suggest that green tires should be vigorously developed to enhance recycling. In the international competition, the real strong must cast a competitive edge in technological innovation and create an industry position in the industry leadership.

Exported U.S. blocked tires turn to other side

On September 11, 2009, U.S. President Barack Obama decided to impose a tariff on China's tire special protection case for a period of three years. In the first year, a tariff of 35% will be imposed on tires imported from China, 30% will be imposed in the second year, and 25% will be imposed in the third year. This is referred to as the "tire special protection case" in the United States.

The United States International Trade Commission issued a statement on the same day that the committee believes that the cancellation of the "double anti" tariffs on the above-mentioned products imported from China may lead to substantive damage to related US industries again within a foreseeable time.

According to the U.S. trade remedy policy process, since the U.S. Department of Commerce had previously made a positive review of the sunset review, the U.S. International Trade Commission's decision on that day showed that the U.S. will continue to impose "double anti" tariffs on non-road tire products imported from China.

Xu Wei, a partner of Jincheng Tongda Law Firm, disclosed to reporters: "The United States' non-road tire use in China was a case with extensive influence. In this case, Chinese companies have been actively responding to the case. In the original investigation, the application of anti-subsidy investigations and double calculations to China, a non-market economy country, was sued to the United States Court of International Trade and the Federal Circuit Court of Appeals and won a case. Under such circumstances, the United States and Senate had to The assault passed the bill and it was confirmed in the form of legislation that the anti-subsidy investigation could be applied to non-market economy countries and required the resolution of possible double-counting problems. There were also corresponding Chinese companies responding actively to previous annual administrative review cases."

The United States is not the only country that has conducted anti-dumping investigations on China's tires or formally imposed anti-dumping duties. In August 2013, Brazil stated that it had concluded the anti-dumping review of automobile tires imported from China. The result of the review decided that an anti-dumping tax of US$1.08 to 2.17/kg would be imposed on Chinese automobile tires.

In addition, Argentina, Colombia, Egypt, Mexico, South Africa and other countries have initiated anti-dumping investigations or officially levied anti-dumping duties on tires originating in China. The European Union's tire labeling law, which began in 2012, imposes more stringent requirements on the performance of imported tires. At present, 30% of China's passenger tires do not meet the minimum requirements for rolling resistance in the first phase of the EU, and 70% do not meet the minimum requirements for the second phase.

Wang Guomei, head of overseas marketing of Shandong Linglong Tire Co., Ltd., revealed to reporters: "For the current result of the continuous taxation of the United States, we can only passively accept it. At the same time, the company is constantly appealing. After all, these tasks are still to be done, but it should be There will not be any good results or a turn for the better. With the high tax rate, our company's related products have given up the US market and instead exported to other countries and regions, mainly to Central and South America, Africa and Australia. The demand for such products in the world is still very strong, and the supply of products is in short supply." In the overseas market territory of Shandong Linglong Tyre Co., Ltd., the US market accounts for 40%, of which the involved products account for 15% to 20%.

Increase technological content to drive innovation

After experiencing the financial crisis and tire special protection cases, Chinese tire companies have gradually realized that simple response is not enough to eliminate the industrial impact brought about by the special security case. Only innovation is the fundamental of development, with the development strategy of skill. , Such as building overseas factories, is an effective means to avoid risks.

Liu Zijin, general manager of Qingdao Fulin Tire Co., Ltd., who had participated in the United States tire special protection case, said that the experience of failure before responding did not prevent the company from innovating. Through research and development, the company launched a 30-inch tire, an ultra-high-end product. .

Su Yongmin, general manager of the International Trade Department of Hangzhou Zhongce Rubber Co., Ltd. told reporters that the company did not abandon the U.S. market in these three years, but seized high value-added fields in response to market demand. For example, the use of green materials, manufacturing SUV tires with low noise, good grip and other advantages.

Su Yongrong, manager of Hangzhou Zhongce Tire's International Trade Department, told reporters: "Our company is doing counter-announcement every year, but the United States has its own factory on non-road tires, so it will try to block Chinese exports at the national level. In addition, we have never given up the US market, and even if the price is relatively high, there are customers who buy it. Now that the share of exports to the United States is very small, we will transfer the market to countries such as Canada and Mexico."

In addition, Xu Hao warned domestic export enterprises that the US Department of Commerce has recently adopted a new policy in its anti-dumping investigations on non-market economy countries, and the amount of tax refunds that cannot be exempted from exports when the products under investigation are directly exported is deducted from the export prices of products. It is more difficult for companies to respond. Judging from the ongoing administrative review in 2012-2013, the corresponding mandatory responding companies are facing difficulties and are actively preparing defense materials in an effort to obtain low tax rates.

Suzuki Android Car Dvd can install this suzuki car:




Suzuki Android Car Dvd have CAR DVD GPS,You can easily access different online maps such as Google map, IGO, Sygic and Waze map for free. With Google map, you can get the most accurate and up-to-date routes, live traffic data and more. Find your way around has never been faster and easier.

Suzuki Android Car Dvd Support easy-connected feature: Compatible with android smartphones and devices, the easy-connected feature enables mutual control between your smartphone and car head uni. You can simply connect and synchronize your smartphone to the uni via USB, with no additional software required.

Suzuki Android Car Dvd Compatible with steering wheel controls: skip to the next song, adjust the volume or switch another channel, all without having to take your hands off the steering whell, making your journey safe and more enjoyable.



KD-7602
ALTO/CELERIO 2015 -2016
KD-1100
Vitara 2015
KD-7056
Vitara
2005-2011
KD-8075
CIAZ 2015
KD-8073
SX4 2014
S Cross 2014
KD-7058
SX4 2014
S Cross 2014
KD-8702
SWIFT
2013-2016
KD-7055
SWIFT
2011-2012
KD-8072
SX4
2006-2012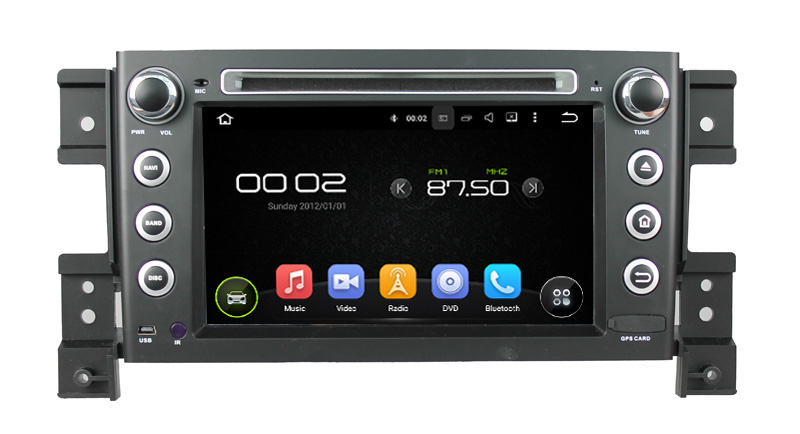 Suzuki Android Car Dvd,Suzuki Touch Screen Android Car Dvd,Suzuki Android 4.2 Car Dvd,Suzuki Android 4.1 Car Dvd

SHEN ZHEN KLYDE ELECTRONICS CO., LTD , https://www.szcarradio.com