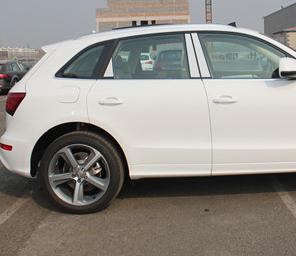 According to the official Weibo News of the People's Liberation Army, Audi, Passat, Santana, and the "joint venture vehicle" that suspends the White Army will gradually withdraw from the historical stage of the military official car. Recently, the first batch of more than 1,000 military red flag H7 sedans accepted by the army's army loading and unloading ship were delivered to the army. Following Guangzhou Automobile Chuanqi and FAW Pentium, another domestically-owned brand of sedan was included in the official vehicle of the army, and our military official vehicle order was fully realized. The "joint venture vehicle" that hangs the white military brand will gradually withdraw from the historical stage of the military official car.

At the beginning of this year, the four headquarters issued the "Measures Regarding the Implementation of the Armed Forces," which clearly stipulates: "The use of official vehicles shall be subject to centralized procurement and the use of domestically-made own-brand vehicles."

The reporter learned from the General Assembly Bureau of Land Loading and Science that the official vehicles of the armed forces are bidding and carry out competitive procurement. The General Armament Department took the lead and invited FAW, GAC, SAIC, Brilliance, and Beiqi to participate in the bidding. Twenty-seven experts from the headquarters, the Navy, the Air Force, the Second Artillery Corps, and the Ministry of Transport heard the bidders' statements at the scene, questioned the relevant issues, independently scored and reviewed the results, and announced the results on the spot.

The military loading agency of the total loading ship has set up a special team to deploy elite troops to infiltrate the military representative office and assist the stationed military representatives to carry out inspection and acceptance of official vehicles.

"In order to ensure the delivery of the first batch of military red flag H7 passengers with zero defects, we coordinated the production enterprises for the first time to hold a production kick-off meeting, carefully combed the production organization, process control, and quality assurance programs, and carried out special production of military vehicles in accordance with relevant standards. Requires refinement and refinement to ensure that every link is constantly improving." Jiao Yuyu, general representative of a military representative office of the General Logistics Agency's military service bureau told reporters that "from the key processes in the production process, special process control, to the entire vehicle acceptance process, Japan's first car review, each 30 km road test, each 100% acceptance ", the army on behalf of the room to follow the entire process of follow-up supervision, a strong guarantee that each military official car is a "quality car."